At Diamond Clothiers we create clothing made to express your individuality and create a lasting impression. In 28 years we have worked with over 1800 businessmen, athletes, and well dressed gentlemen across the United States, mostly in Florida and the Southeast. As a full service clothier we offer a wide array of services including complete wardrobe planning for your business, social, or casual needs. Our goal is for you to remain a loyal happy customer after experiencing our products and service for the first time.
David Strange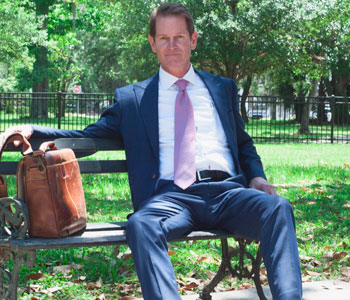 David entered the clothing business in 1988 with a large retailer. In 1992, he started his own firm with a different focus—customer service and earning clients trust.
Working with all fields of business but focusing on financial, insurance, sales organizations and law firms and gaining all new clients by referrals with no advertising, his business grew rapidly in every city in Florida and clientele in over 20 states.
Headquartered in Jacksonville, David spends most of his time in Jacksonville and one third in other cities servicing existing and new clients.

Southbank Haberdasher A Real Gem
Jax Daily Record
By Monica Chamness, Staff Writer
The clothes make the man, as the saying goes. David Strange, proprietor of Diamond Clothiers, stakes his reputation on it. Strange has 15 years experience in customized apparel and formed his own company a decade ago. Also referred to as a haberdasher, Strange sizes people up, literally, to ensure a wardrobe tailored specifically to his clients. "I focus on great service and working with people whose time is very valuable," said Strange.
Executives, attorneys, doctors, business owners and salesmen dot his client list. With a male-only customer base, Strange carries suits, shirts, shoes and ties. Strange contends many of his clients have used his services for 10 years or more. Jacksonville is his primary market but his reach extends into 17 states. "People move and want to continue working with me," he said. "I do fly to see them but many of my customers are downtown."
An exact fit and a plethora of options are reasons he cites as to why individuals prefer custom-made suits. His business is based on referrals. A Jacksonville native, Strange is a graduate of the marketing program at the University of Florida. After learning the specifics of the trade with a national firm, he struck out on his own. Through the business casual days of the 1990s, Diamond Clothiers has held fast. "We've been on a strong growth wave the last four years," said Strange. "People are returning to purchasing suits and nicer clothes. Most clothing companies are seeing an increase in sales at this point. The trend of dressing down has ended; the importance of dressing up for business is being recognized by almost everyone."
Strange pursued sales fresh out of college because "that's where the money is." Having the freedom to reside anywhere he chooses, while operating a firm capable of a nationwide presence, was paramount to his life's goals. "We're a specialty shop so we try to get products that are unique and different to give our customers a sense of uniqueness and style in his dress," he said. "Neck tie [sales] are especially strong. I have an exclusive deal with Fabergé. They only make 150 ties out of each design, so the customer who purchases a Fabergé can be assured they are not going to run into others wearing them." The family business — his wife handles the accounting — generates about $1.25 million a year. Currently, he's planning a move from the Southbank Riverwalk to San Marco.
"I live at the beach but I like working in San Marco because of its proximity to downtown and the rest of the city," said Strange. "I don't get a lot of walk-in traffic because I operate by appointment, but it [the Riverwalk] is still a great location. Many customers prefer to come here as it is close to their offices. It's convenient and the parking here is much better than downtown." With downtown revitalization becoming a reality, Strange sees nothing but blue skies ahead. "All of the continued growth in downtown and San Marco helps my business," he said. "The Better Jacksonville Plan is certainly aiding small businesses. We're not a big city yet but we're getting there."
With 2,000 customer files, Strange is adding another salesperson, purchasing a building for office space and rebuilding his website, www.customsuit.com. "Great clothes open all kind of doors," he said. "There is plenty of competition but people who develop relationships well are generally rewarded with repeat business. A lot of people understand the gist of what we do because this has become more common. Business people are aware they can buy things in their offices now."